Vivre une vie de plénitude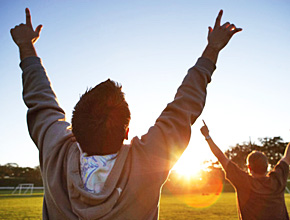 Translated from English by Isa Martinetto
The fullness of desire is universal . From the moment of our birth, we find in us an insatiable hunger for a more abundant life. We try to take every experience, to assess any relationship and take every opportunity to the maximum. But while we strive to fulfill our adventure lives, we are never completely satisfied.
It does not have to look far to find a myriad of quotes about the meaning of a life lived fully. The phrase in Latin, Carpe Diem means measuring your days . It appears everywhere, whether on gifts received for graduation until honorary plaques . Living a full and complete life is one of our priorities innate and yet it seems to be an impossible goal perfectly .
Insatiable designed
It is no coincidence that people are looking to not only survive, but actually thrive. This desire to live fully rather than just existing is what differentiates us from animals; it is a means by which God made humans a unique creature. We were created with the ability to have emotions, and the thirst to grow and learn because we were created by God in his image. God is the Creator, the source and origin of life, and that is why we are creative and we want to enjoy life and cherish.
Where is the problem?
If we were created by God himself to have busy lives, why so many of us feel empty? And why mostly religion she seems to be rather a hindrance than a help to achieve this life fully lived?
Although we were created by God to live a full and rich life, this is only possible by living a deep relationship with him. The Bible says that God "  made ​​good in its time; Similarly, it has put in their heart the thought of eternity, that man can not fathom what God has done from beginning to end. "(Ecclesiastes 3:11)
God has given us many pleasant things to enjoy, but their sole purpose was always to direct us to Him. Without this relationship, the whole experience is dull and limited. It no longer fulfills its primary purpose: to reveal to us the Creator who imagined.
He rooted in our hearts the knowledge of a much larger reality that our temporal existence. When we expect to live a full life without God, we expect something in life that she can not offer.
About Jesus
A life is by definition a life lived in relationship with Jesus, because he himself is "LIFE". Jean 14.6 identifies Jesus to life, "Jesus said, I am the way, the truth and the life. No one comes to the Father except through me. »
Christ is not only life, but also the truth and the way by which we can be accomplished with God for which He created us. We can not choose and enter what parts we want to accept Jesus and why we refuse. In the same way that we can not choose to be related to some parts of someone, we can not live fully with Christ if we do not receive it as the truth and the way, and the life.
That mean exactly the truth and the way?
Accept Jesus as the truth and the way means appropriating Christ channels such as our own ways and recognize him as the source of all truth. This is not a common choice. We prefer the contrary, by our nature, choose to have control over our lives and to have our own definition of what is right or wrong. It is blatantly obvious when we see the desperate state of our world as a result of our unfortunate choice. It is those choices that the Bible calls sin.
In Greek, the word translated "sin" means "to miss the mark." God created us to have a fulfilling life full of his presence. We miss the goal when we live otherwise than in union with God. However, we are unable to live this unity because we have chosen a different path than that of God.
Sin is not a recent phenomenon. When Adam and Eve chose to disobey God, they chose their own version of life and they sinned. They exchanged the truth of God, his perfect goal against the lie of an independent life that could never fulfill its false promise of freedom.
As we see and experience it now, that life cut off from God has proved to be not life, but the break.
It's like a child who wants his freedom to go running in the street. In his eyes, he is freer when he can finally do what he wants, but his parents know that this kind of "freedom" produces death.
Romans 6:23 explains this in a spiritual way, "  the wages of sin is death. " The salary we deserve for our choice to live outside of God's plan for us is death: eternal separation from God and all that is good. This is what is often defined as hell. Moreover, these negative consequences also affect our present life on this earth, bringing brokenness and real spiritual death.
So it is with our world: we run in the middle of the street looking for the freedom of paying our lives, in the end.
The life that Christ offers us is a spiritual life. The life of Christ allows us to be reconciled to God the Father, who created us and wants to show us what purpose he gave us life. It's coming to him we can let our lives empty and filled with struggles experience a full life with purpose and meaning.
How does Christ restores our relationship with God?
As we have already explained, our attempt to live a life apart from God has the effect of bringing us to spiritual death. However, God wants us to live deeply and he gave through Christ a way to restore our lives. The second part of Romans 6:23 tells us: "  The wages of sin is death, but the gift of God is eternal life through Jesus Christ our Lord. »
John 3:16 is another well-known passage from the Bible and that for good reason. He tells us that "  God so loved the world that he gave his only Son, that whoever believes in him shall not perish but have eternal life. »
Jesus Christ, the Son of God, was both fully God and fully human.
He was able to live a life in perfect unity with God, for he was perfectly obedient to him. Christ was crucified on the cross, unjustly HIM perfect God sacrificed to pay the price for our sins deserved. At the same time, Christ is able to accommodate us in life, because he himself did not remain abandoned to death. Three days after his death on the cross, Christ was resurrected to eternal life.
What is my part?
Accept death and the life of Christ does not mean that we must abandon our physical lives, but it means that we must freely choose to submit our right to live independent lives in sin and instead agree to live according to God.
This requires confess before God that we have chosen in the past to live apart from him, and to commit ourselves to live for him now. We must also accept the gift of Jesus, his life and died in our place before God and recognize that it is the only way to be reconciled to God. It should not only be the guide (our Lord) of our lives, but also our savior from the bondage of sin and spiritual death.
Does that mean I'll always be happy?
Joy is one of the many emotions that God has given us and we can accept it as one of those gifts. However, like all emotions, it depends on the circumstances and can quickly disappear. She flies when your child is sick, when the career of your dreams turns out to be a nightmare, and when you get older faster than you ever imagined.
God does not guarantee us a constant delight when we engage with it, but it promises to be a lively and constant source of joy. The joy is the security of knowing and remembering that we are reconciled to God and that we have eternal life he promised us. She comes by knowing God and based on loyalty.
The choice to make:
Deuteronomy 30: 19-20 challenges us that each of us must answer, "  This day I call to witness against you heaven and earth that I have set before you life and death, blessing and cursing. Therefore choose life, that you may live, you and your descendants, to love the Lord your God, to obey his voice, and that thou mayest cleave unto him: for it depends on your life and the length of thy days. »
Where are you today ? Are you ready to let God direct your life?
If so, the last step is a prayer to God asking him to come into your life and make you the person he wants you to be. Prayer is talking to God. There is no right or wrong way to do it. God does not look to the words you choose. He looks at the state of your heart. He hears you, the words are not so important.
Here is a prayer you might want to use to start your relationship with God.
Lord Jesus Christ, I want to know you. Thank you for dying on the cross for my sins. I open my heart to you all great and I invite you to come and reign in me by your Spirit, and deliver me from my sin. Directs my life. Make me the kind of person you want me to be. Thank you for the forgiveness of my sins and the gift of eternal life. Amen.
If this prayer reflects the sincere desire of your heart, you can speak to God. Jesus promises to come and live in you in response to your faith.
If you invited Jesus to take the direction of your life, thank them for their presence often you and promise to never leave you or forsake you. By discovering more and more his infinite love for you and His will for your life, you will live the abundant life he came to offer.

You can live the fullness of daily life by relying on the Spirit of God.  Do you know the fullness of the Holy Spirit in your life?
Afficher vos commentaires
Vous devez être connecté pour laisser un commentaire.