Pâques, une restauration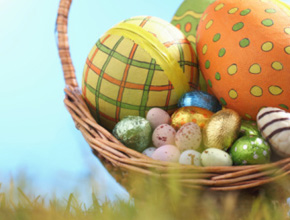 When you're thinking of Easter, do you think rabbits and eggs? In chicks and baskets? Maybe is it a cross or a church or spring clothing? I think of century homes. I know, what's the connection? It is for me, in the heart of Easter, is the story of a restoration .
It only takes a little to see what's wrong in the world. The broken places, dilapidated, worn are quite visible. Sometimes we feel that the world is in ruins. This is why we need to Easter. Like an old dilapidated house in the hands of a master carpenter … this is our life in the hands of God. It can restore us.
It's easy to see everything that is wrong with the world and ask: Where is God?
We see the pain and suffering, injustice and cruelty. If God exists, why does not he come fix everything?
I think this is actually what he did.
The story of Easter is a food story. In the Gospels of Matthew, Mark, Luke and John, we read that even if Jesus lived a perfect life, he still found convicted. We see him as a victim of an unfair trial, innocent, but still doomed. We see it die, although as God he could easily break free of the cross. But it has not done so. Instead, he offered his life in sacrifice. He agreed to pay the award that deserved all the evil we have done, to offer us a reconciliation with the Father.
The best known Bible verse John 3:16 is probably – the speaker of the immensity of God's love for this world. An English version of the message, and the interpreter:
"God did not send his Son to point the finger at us and tell us how we are bad. He came to help us in the restaurant world. »
I have heard people say that religion exists to tell us all we need to do and condemn us for what we do not do. Maybe it does for religion, but that is not what Jesus came to do. When I read the Bible, I do not read a note of conviction, but rather a love letter.
There several years, I saw a greeting card with these words inscribed:
"How much do you love me? "I asked Jesus.
Arms outstretched on the cross, he replied: "Great way. »
The Bible tells us that "God demonstrated His love toward us in that while we were yet sinners, Christ died for us. " (Rom 5.8).
God loves us so much that he did not wait for us to come to him with our needs. He took care of it even before we realized we needed him.
The story does not end there. Jesus died and three days later he rose from the dead. It seems impossible, is not it? But Jesus is indeed the Son of God, not just a good teacher, a prophet or a good example. Jesus proved his divine identity by resurrecting from the dead . It is thanks to him that we can be reconciled to God, because he paid the sentence of sin so that we might live forgiven, and no longer separated from God.
If you want to welcome God in you, you can do today. Just want forgiveness, reconciliation and restoration that offers you in Christ Jesus. You can simply express this desire through prayer. Prayer is simply a dialogue with God. Why do not you invite him to come to you, forgive you and make you the person he wants you to be. There is no correct way to do it. For God is not the words that matter, but the attitude of the heart. He hears you. You can express yourself a little like this:
Jesus, I want to know you personally. I know I am a sinner and I need you to be forgiven and restored. Thank you for dying on the cross in my place, who paid the punishment for my sins deserved. I know that thanks to you, my sin is forgiven and I am reconciled to God. Thank you for your forgiveness. Thank you for your love and eternal life you give me. I want you direct my life and that you make me the person You want me to be.
Do you need catering in this Easter season? Why not take the time this weekend to read the Easter story, or to view a film on the life of Jesus?
What to know you about God is quite simple: there really, he loves you so much, and it can transform your life. If you notice your need of restoration, there is hope. You can read a little more about it here.
If you would like to speak with someone, know that we have a team of mentors available 24 hours 24. You can use this form to contact one of them. This email in dialogue is private and free, and can continue as long as you want.
Afficher vos commentaires